It's that season again, when the British roll their eyes at the United States for calling beautiful autumn something as curt, blunt, and lacking in imagination as "fall." (We have to think there's more than a little envy in this criticism. "Fall" is more etymologically consistent with the other season names–"summer," "spring," and "winter" are all Saxon names, whereas "autumn" is not–and the rationale for the name descends in a colorful torrent all around us.)
It's that time when the innocent get a gleam in their eyes, take up knives, and mercilessly slice smiles into the nearest gourd. (Or potato, if you're in some locales.) Hayrides meander through misty woods, even in an era saturated with iPads and hybrid cars. Starbucks remains coy about exactly what's in their pumpkin latte. We sportingly embrace fear for a few weeks, delighting in the escalating chill that inevitably gives way to family reunions and overeating. Another year of Common Core standards elicits a shiver of excitement, or fear, depending in your perspective.
It's autumn. (That one's for you, U.K.)
Halloween Resources
Get in the spirit with some of our printable Halloween resources. We've got masks, shapebooks, story planners, and much, much more.
On thing we've always loved about autumn is that it's a very interactive season. Yes, we're using this as a sort of heavy-handed segue to provide a link to some Halloween-themed interactive activities, but consider it: pumpkin carving, trick-or-treating, dressing up, hay rides, haunted houses, apple cider mill tours, corn mazes, harvest festivals, inevitable talk about dental health… it seems like there's a lot more to do during the fall than other seasons.
We're happy to share our enthusiasm for all things autumnal: here is some seasonally-appropriate decor and fun stuff from abcteach.
Now that we're into the meat of the school year, some of us can really feel the impact of Common Core implementation. There's no reason to treat compliance like the boogeyman. Try looking over our Common Core section. As you in the profession know, Common Core can be a divisive issue. (A recent set of polls proves that even the data can't agree with itself.)
What do you think? Is Common Core working out? What would you change? Is there anything we can do to make your teaching life easier? We'd love to hear from you.
Halloween Around the World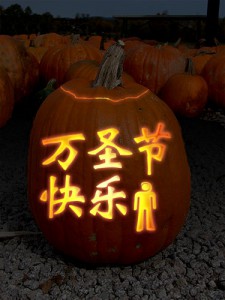 We're fortunate to have members all over the world. It's easy to become immersed in your own culture and forget how things we take for granted are different or nonexistent in other places on the globe. (It's a consistent pleasure to watch the realization bubble up in a student that the Canadians don't celebrate the Fourth of July, for instance.) While 65% of Americans decorate their homes for Halloween, the holiday takes many shapes around the world, and doesn't exist at all in others.
In France, people prepare for Halloween by…doing exactly the same thing as they do any other day. The holiday is a recently-adopted novelty in France, but not a meaningful part of their culture.
Ireland takes its Halloween very seriously (sort of), as it is the probably birthplace of Halloween as we know it. Bobbing for apples is common, as are cakes with treasure baked into the center.
China, England, Belgium, and most other countries include lighting lamps and candles during Halloween or its equivalent. This is generally for the purpose of providing illumination for wandering spirits, as opposed to warding them off.
During Japan's Obon Festival, statues are tended and cleaned, lamps are lit, and the way is paved for the return of the honored dead.
Learning about other cultures' holiday variations is a great way to learn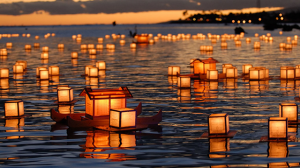 about their history and perspective in general. International students may enjoy sharing information about their homeland's customs during these special times.
We hope you're enjoying the season, regardless of what you call it or how you celebrate it.