Earth Day is celebrated every year on April 22nd. We should celebrate Earth Day everyday! How are you going to incorporate Earth Day into the classroom? Well, look no further…we have some great activities to get started. We want to focus on the importance of protecting the environment, as well as ways to prevent more damage from occurring.
Going Green
Let's start off on the right foot by reducing the waste we make each and every day. Instead of printing paper, Go Green! Recycling paper can save money, as well as our planet! You can immediately start reducing your carbon footprint with these helpful tips and tricks to try today, and why not start on Earth Day.

Teach your students/children how to recycle early. It can be confusing, what is recyclable and what is not. Recycling is a great way to reduce pollution, conserve energy, and save important natural resources. Here are a few ideas to help recycle paper use in the classroom.
Use both sides of sheet paper when writing in the classroom, and printing large workbooks.
Work in groups to save on printed handouts.
Create a scrap paper bin for students to use whenever!
Use chalkboards/whiteboards to save paper.
Create a blog or website for students to access and submit assignments online.
Ask for local donations. (Reuse library books)
Start a recycling bin in the classroom
Recycle old magazines, newspaper clippings, and mail to create cool art projects.
Do you have any other 'green' classroom tips that you can share? Feel free to leave a comment on how you are helping reduce waste in your classroom.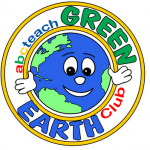 To refresh your comprehension skills, we have many different articles about Earth Day and how it all began. Did you know that Earth Day was originally started in San Francisco in 1970?
Comprehension: Earth Day (upper elem/middle)  – Members Only
Comprehension: Earth Day, Every Day (elem) – Members Only
We have a few awesome interactive activities to use in the classroom on Earth Day! Don't have a SMART Board? No problem, just open the file using Smart Express Viewer.
Earth Day Interactives Using SMART Board – Members Only
PowerPoint Presentation: Natural Resources
Other activities that help explain the three R's of conservation (Reduce, Reuse, and Recycle) are linked below.

Think Green, Teach Green
There are so many fun, hands-on ways to teach green in the classroom. This is a great time of year to show your students what they can do to help save our planet.
There are so many ways we can protect the environment and help save the planet. Teaching the importance of going green in the classroom, and encouraging our students to be environmentally conscious every day and not just Earth Day is a wonderful start. You can make a difference by Going Green!
~ Laura Kemsley, abcteach team