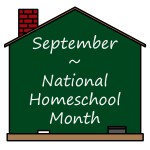 National Homeschool Month is a great time for families to celebrate the unique and wonderful adventure that is homeschool. My husband and I have educated our two sons for the past ten years. It has been challenging at times, but the rewards have been much greater than we expected. This new school year will be our last one, since our youngest son is now a senior. It is a bittersweet time, knowing that this particular adventure will soon come to an end; but it is so rewarding to look back on the great memories and accomplishments.
As I prepared to write this blog, I asked each of my sons what they loved best about homeschool. I was not surprised that their first answers were the same: "Not having to get up at the crack of dawn!" We are all night owls at our house, so it has been great to set our own schedule. In fact, my sons named several favorite activities that were made possible by the flexibility that homeschool has provided. When the boys were younger, we attended homeschool group swimming and skating at hours when other children were in school. We could go out for lunch, take a break to enjoy good weather, or attend special events. Our favorite treat has always been to attend the first showing of a new movie on opening day. As teenagers, my sons have been able to attend midnight releases of their favorite video games and movies, without fear of being sleep deprived for a test the next day. I remember many school day outings when my young sons encountered adults who asked why they were not in school. My sons always answered boldly and proudly, "We're homeschooled!"
Flexibility was not limited to our schedule. It allowed both boys to study and learn at their own paces. They could stay on a subject until they reached mastery, then move on quickly without boring repetition. My oldest son said that he enjoyed the flexibility of studying topics of special interest to him. His fascination with computers dominated his homeschool activities. He used the Internet to learn about computer hardware, basic electronics, and some programming languages. As a junior, he built his own gaming computer from scratch. In college, he has studied computer networking and is now moving into robotics. My youngest son has had the flexibility to pursue several interests, including medieval armor and weaponry, and auto mechanics. He has an impressive collection of reproduction armor and swords. Currently, he and his dad are restoring a classic car.
As for my husband and I, we are most grateful for the time that homeschool has given us with our sons. We have grown very close as a family and still enjoy spending time together. The experiences we have had together are priceless. Of course, there have been doubts and concerns along the way. I am sure that many homeschool families have them. However, it is wonderful to come near the end of this adventure and feel confident that it has been a great success. I want to encourage all homeschool families, especially the young ones, to work past the difficult times and embrace the good ones. Educating your children at home does not last forever, so enjoy it will you can. It is definitely an adventure worth taking!
Posted by Carol Welch – Homeschool Mom, abcteach Team