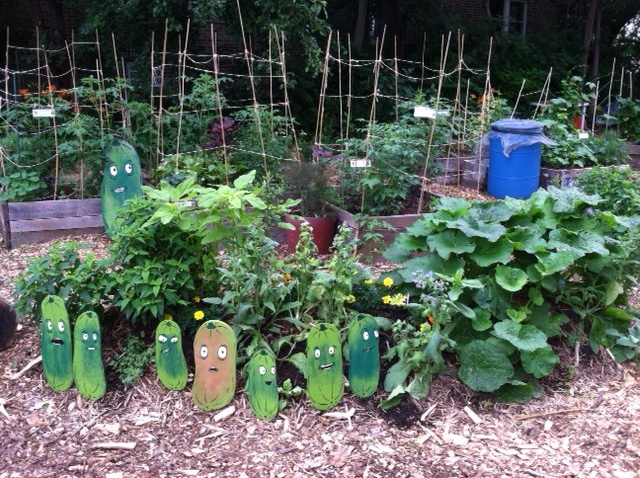 Summer is finally here, which means biking along the lake, picnics at the beach, and leisurely reads in the park, at least to this Northern girl.
Summer also means delving into one of the greatest joys of the warm weather season: gardening! After being dormant for months, we are now experiencing a bountiful supply of bright flowers, crisp vegetables, and sweet, tasty fruits. From herb pots to community gardens (like Chicago's Altgeld Sawyer Corner Farm pictured to the left), our chances to experience them are plentiful.
In addition to filling our bellies, gardening also produces amazing learning opportunities. It's an education in many subjects, rolled into one activity. From planting the seeds, to pruning, watering, and upkeep, you're experiencing a plethora of educational skills, including science, math, language arts, organization, and goal setting, just to name a few.
Interactives
Interactive: Notebook: Science: Garden – Word Search
Interactive: Flipchart: Word Search: Garden Planter
Interactive: Notebook: Science: Garden/Seeds (Member)
PowerPoint: Presentation with Audio: Soil 2: Dirt (multi-age) (Member)
Writing & Journals
Clip Art: Clover Garden B&W outline (Member)
Project: Gardening Journal – Field Trip Report
Project: Gardening Journal – Planting Record
Shapebook: My Garden (k-1/primary) (Member)
Reading & Language Arts
Fiction: Patricia's Garden (upper elem/ middle)
Fiction: Dana's Flower Garden (elementary)
Comprehension: Fun in the Garden! Seed Starting (primary (Member)
Comprehension: Composting-Key to a Bountiful Garden (upper elem/middle) (Member)
Math
Learning Center: Spring – story sequence (Member)
Word Problems: Spring Garden (elementary) (Member)
Worksheet: Jenny's Garden (elem/upper elem) (Member)
Green Earth Club Materials
Learning Clubs: Green Earth Data Record (upper elem/middle)
Learning Clubs: Healthy Gardeners Bookmarks
Learning Clubs: Fiction Fanatics (elem) (Member)
Clip Art: Green Earth Club Logo (Member)
abcteach has over 150 garden-related materials for students of all ages. They're colorful and versatile, and can be used at home, while on the road, or during your summer school teaching. No matter what the age, kids (and adults) can alway reap the rewards of the garden classroom.
Posted by Lindsey Elton, abcteach Team