Easter offers so many opportunities for learning activities and many of them can be found on abcteach! Whether you want to practice core subjects, do arts and crafts, use hands-on activities to learn, or learn about the spiritual significance of Easter, there are plenty of activities right at your fingertips.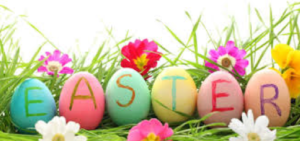 One of my favorite tools to use with a variety of activities is a basket of plastic Easter eggs that I can find at my local thrift stores. I fill the eggs with tasks that I want the students to do. I usually make them take one egg at a time, complete the task, close the egg and take a new one. The eggs are numbered so they can check them off until all the tasks are completed. The movement helps them stay focused and they enjoy a sense of competition to see who can finish first. Here is a great example; you could cut out each line from this Easter word scramble and put one in each egg…or make your own word scramble using the abctools!
Arts & Crafts
There is a wide variety of coloring pages for Easter.
Coloring Page – Geometric Egg *Free
Make this cute bunny face using this printable pattern. Students could make extra to donate to a local shelter or children's hospital. Or use as decoration in and around the house.
This hands-on activities requires some sewing skills! An advanced craft that has students make a stuffed dimensional felt wall decoration of a rabbit and carrot. Teaches beginning sewing skills, including using patterns. Appropriate for Easter or secular spring celebrations.
Craft – Stuffed Bunny & Carrot *Free
Vocabulary Skills
Check out this popular packet! Four fun word puzzles with an Easter theme: Word Maze, Mystery Picture, Cryptogram, and Brain Teasers. Great for Easter vocabulary practice.
Reading & Writing
There are activities to read about the religious significance of Easter. Even if Easter is not a religious holiday in a student's family, it is important to know the importance of Easter in some religions.
Super fun and simple color and write activity. Great for all ages!
Color and Write – Easter Prompt
Math
Count the eggs and match the numbers (1-12) on these cute baskets.
This Easter Egg Math Bar Graph & Tally Chart is perfect to practice graphing skills. Your elementary grade students will love this Easter Egg Math Bar Graph & Tally Chart. Students will find the answer on each of four colored pages of bar graphs and tallied information based on an Easter egg count.
Easter Egg Bar Graph & Tally Chart *Free
Solve these math puzzles. Six pages of Easter illustrations with math facts to solve and color by number. Two pages of addition, two pages of subtraction, and mixed digits. All numbers are less than 20.
We hope you have an egg-cellent holiday! Stay well. Don't forget throughout the month of April abcteach is offering annual subscription memberships at a discounted rate! Subscribe today using the code: SPRINGSALE to get access to thousands of amazing resources! That is only $29.99 for an entire year! This is an automatic renewal, so be sure to take advantage of this pricing and join today!
Happy Easter!
Written by, Jen Bon
~abcteach team