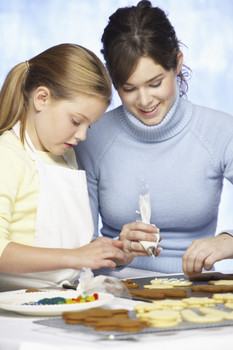 Math is all around us! In order to lead an independent life, we need to use a variety of math concepts. That is one of the reasons why learning about math in school is so important. There we learn about the basics, such as shapes, matching, sorting, counting, multiplying, dividing, along with many other skills. Learning and using these concepts in a classroom setting is important, but even more important, is learning to generalize the use of these skills to everyday life.
Most of us don't realize how often we are confronted with math-related problems each day. We use math to measure how tall we are, how much we weigh, and what size clothes and shoes we wear. We use math all the time in the kitchen. Math is involved when we prepare a meal, follow a recipe, measure ingredients, set the table, and while putting away groceries. We use math when we travel to and from school or work, when using a calendar, and even when we perform hygiene skills. Learning to complete math-related skills independently will enrich our lives and often makes life easier.
abcteach has a wide variety of teaching materials to help individuals learn and practice many of the skills that you need in everyday life. There are a variety of worksheets to practice counting, money, measurement, and time. Just head to the section or type a concept into the search bar and a number of choices will appear. For those who like more active learning opportunities, try the Family Activity Planners. These planners cover 12 different areas of interest and are chocked full of fun and creative ideas to teach not only math skills, but also Reading and Writing, Science, and Social Studies. Each area is divided into suggested age groups: Pre-K and Kindergarten, Primary (Grades 1 – 3), and Upper Elementary (Grades 4 – 6). The age ranges are just suggestions, so any activity that sounds as if it will be fun and interesting may be used for any age.
Helping students and young adults learn math while experiencing it is a great way for them to fully understand and remember the concept. Learning about measurement by wrapping a gift, or learning to measure perimeter and area by pacing off a room, gives measurement meaning and relevance. Learning to use money at a store or restaurant gives individuals experience with handling money, percentages (tips and sales), and budgeting skills. Time management and calendar skills can also be taught using hands-on activities. Filling a calendar with family and friends' birthdays and special occasions is a great way to begin. Young adults can then learn to add medical appointments, meetings, and work or school deadlines. Checking your calendar regularly and independently and carrying out your responsibilities exhibits self-sufficiency and maturity – definite requirements for a successful, independent adult life!
Lots of other math-related skills can be taught and reinforced through hands-on activities. Remember to check out all the Family Activity Planners for more fun and functional ideas. You can also check around your home and neighborhood – I bet you'll come up with ideas of your own! Most of all have fun with it. Learning when you don't realize you are doing it embeds the skill and understanding of the concept more thoroughly, making use of it in the future easier and more likely!
Posted by Janie Quinn, abcteach Team