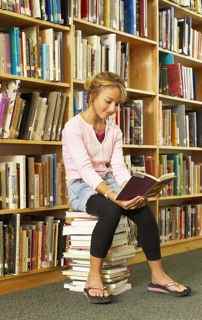 What do you feel when you hear the word 'read?' Are you an avid bookworm or an occasional browser? Have you always been this way? What are your favorite childhood memories about reading?
Reading Awareness Month is a wonderful time for children to create lasting memories and develop a lifelong love of reading. It's also a great opportunity to involve family, siblings, and loved ones to share in the process (and perhaps rekindle a literary spark of their own).
The following highlights are group activities to do with your class, or school as a whole. They are a handful of favorite ideas from Nancy Elton and Sandy Kemsley: abcteach staff member, abcteach Founder, and both retired elementary teachers.
Family Read In
Family Read Ins were activity nights where students and their families came together to read. They usually took place in a gym, cafeteria, or any large room where everyone could comfortably sit and spread out.
The nights typically started off with our principal reading to the kids (we had a stage in the gym, so students could sit around her in the rocking chair). After she was done, students broke off with their families and began reading stories. Everyone was encouraged to bring blankets, pillows, or stuffed animals for the younger children. Whatever would make it cozy was invited. We also had food, juice, or hot chocolate so families could take snack breaks at their leisure.
At the end of the night, families received books to take home. Prior to the event, our library did a review of items that they were going to be replacing. These were then given to each family for their home book collection.
Book Fair/Special people
Each year we held a book fair that included a unique lunch activity. Students invited special people in their lives – parents, grandparents, siblings, etc. – to join them for lunch in the cafeteria. After eating, they would peruse the book fair, usually purchasing a story to have at home.
Feature Author
Some years we would dedicate months, a semester, or the entire year on a specific author. (This was usually a school-wide event, but individual classes could do it as well.) Beatrix Potter was a favorite of ours, so we reviewed The Tale of Peter Rabbit, Mr. Benjamin Bunny, Mrs. Tiggy-Winkle, and others. Class time was dedicated to free reading, and students were encouraged to continue at home. Other activities included:
• Lapbooks – Kids would decorate the cover with drawings, coloring pages, or a simple title. Inside materials included story diagrams and book reviews, or writing prompts covering the beginning, middle, and end of the story. You could also use materials from our Beatrix Potter book section.
• Reading Logs – This was a journal of the books that they read. They could write or use drawings for their review, then we would discuss the lessons that they learned. Shapebooks were perfect for these exercises.
• Buddy program – Staff discussed which student pairings would work best, and then team up older and younger students. The older child could read the book, or help the younger one do it and offer clarity with certain words or concepts.
Developing a Classroom Library
We developed a program for parents to donate books to the class. (This isn't as much of a classroom activity, as it is an opportunity for parents and caretakers to help increase access to books and show their kids the importance of reading.) This process not only developed our library, but it also produced a sense of pride for both adult and student, knowing that their family had done such a good thing for the class.
Book clubs (like Scholastic's Arrow and Lucky program) would visit our school, and parents could donate money to purchase new books for our classrooms. We also made book labels (i.e. special notes that were adhered to the inside pages) to send positive messages to current students and future readers.
Read Around the World
Our Read Around the World project involved multiple classrooms and grades. Each teacher chose a specific country and would read traditional or popular children's books that were customary to that place. Other lesson plans incorporated themes from that country, so math, science, and social studies curriculum had exercises that uniquely pertained to a specific culture.
Parents also joined in the fun by attending classroom parties. They brought in traditional food, clothing, drinks, etc. so that children could literally/figuratively have a taste of different cultures.
Dr Seuss
Dr. Seuss was just an amazing author to cover. It was as much fun for the staff as it was for the students, and the activities were plentiful.
• Cat in Hat Day – Staff dressed up as the story's characters (including our male principal as the Cat in the Hat).
• Green Eggs and Ham – After reading the story, students made the meal with the help of parents. This was usually a party activity. Other learning stations were set up around the room with word puzzles, shapebooks, etc. to entertain them while being able to practice their spelling, reading comprehension, and brainstorming skills.
• Oh, the Places We'll Go… Students would create a passport and a suitcase out of construction paper. When they read a book, they would write a title and paste it on the suitcase. We would then put a sticker on their passport. The end products were a colorful document of their literary adventure.
• Key Ring Book Reports – Students were given a ring along with strips of paper that we cut out for them. On one side of the paper, they would write the author and title of the book they read. On the other side, they would write about their favorite part or character. Twice a week the students would divide into groups and share the paper strips on their ring. By the end of the month, they had a great collection of books on their ring. Suggestion: Have different colored strips for different genres; fiction, non-fiction, joke books, fairy tales, realistic fiction, etc.
• Dr. Seuss materials on abcteach
• NEA activities, promotions, and Read Across America program
Reading Awareness Month is important not only for it's educational and future benefits, but also for the amazing journey that takes place in a child's mind. The creativity, stories, and freedom to dream… Once that seed is planted, the blossoms can last a lifetime.
Posted by Lindsey Elton, Nancy Elton, and Sandy Kemsley; abcteach Team and abcteach Founder