abcteach has a 'pot of gold' at the end of the rainbow filled with worksheets for St. Patrick's Day!
If you are planning a lesson for St. Patrick's Day on Tuesday, March 17th, abcteach has everything already made for you. Let's get started by looking at what is available NOW! Click here to access our FREE materials.
Here are some ideas that you can use to teach the students about this fun holiday.
There are several resources on the website that offer decorations for your classroom. Post the decorations around the room. You can have a scavenger hunt by making trivia questions that connect to the decorations. Students will move around the room answering the questions based on what they see. An example of a question might be; "Why is everything green for St. Patrick's Day?"
You can also use the decorations to ask comprehension questions or ask questions before you give them any information to see what they already have learned or what they would guess based on the decorations.
Who is St. Patrick?
Why do we have a holiday for him?
Why are we supposed to wear green?
What are some things that green symbolizes?
Why is he a saint, what does it mean to be a saint?
What is a leprechaun? Can you draw one?
Already an abcteach member? Login here to get access to over 300 St. Patrick's Day worksheets.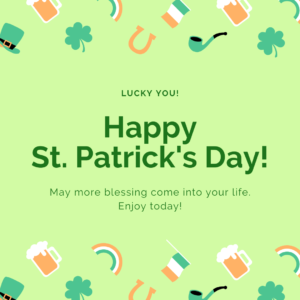 There are many different reading comprehensions about the history of St. Patrick's Day. This is a great way to learn about the holiday and what is about! Begin talking to your students about what they already know about the holiday, history, and celebrations surrounding St. Patrick's Day.
Easy Reading Comprehension: St. Patrick's Day (primary)
St. Patrick's Day Reading Comprehension (elem)
Comprehension: St. Patrick's Day (elementary)
Great Reading Questions: What life in Ireland was like during that time? What challenges did St. Patrick face? What is he know for? You could have students make a timeline of his life by using drawings or writing out the different periods of his life. Ask students what parts of his life they find most interesting and why? What would they want to ask St. Patrick?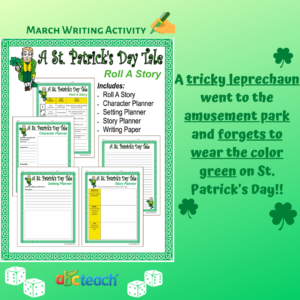 Here are some great St. Patrick's Day themed creative writing prompts, and vocabulary games to use today!
Leprechaun Color and Write Prompt
Roll A Story – St. Patrick's Day Tale
St. Patrick's Day Word Unscramble *FREE
Looking for some fun, math games? Wacky addition, find the number that doesn't belong, mystery picture, counting shamrocks and more! We have everything you need to make your math practice worksheets FUN and challenging.
St. Patrick's Day Math Challenge Packet
St. Patrick's Day Counting Puzzle
Shamrock Flashcards Numbers 1-10
There are many creative, hands-on art activities on this page as well. One idea would be to to print the four leaf clover and ask students to write something on each leaf. Ideas could include; four reasons why they feel lucky, treasures in their lives, or what wishes they would want to come true. Or what they would do if they found a pot of gold? They could also illustrate or draw pictures on the clover.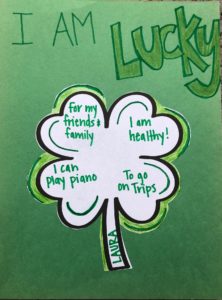 I'm sure you can see that abcteach has everything you could need to have a great lesson plan for St. Patrick's Day. Have fun!!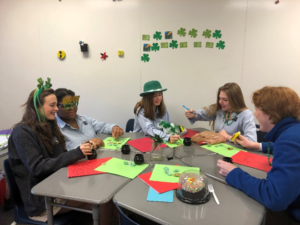 Written by, Jen Bonn
~abcteach team