This month is National Soup month, and I would like to share a hearty soup recipe to celebrate. Vegetable based soups are healthy and packed with vitamins.  The best part about most soup recipes is once you add the majority of the ingredients; the pot does the rest of the cooking.  You don't have to be a master chef to make good food.  Cooking is always fun, educational, and I encourage you to try it.
Cooking is just like life, in that there is always something new to learn.  We all have trouble finding time to cook, but make time once a week to cook a meal with a friend or family member.  Cooking involves so many subject matters, including; Math, science, nutrition, organization, reading, culinary arts, all of which are good for our mind and body.  The best way to make cooking fun, is to choose recipes that you like, and that you can execute easily.  Try out this butternut squash soup recipe. Abcteach has more fun recipes in our functional text reading comprehension section.
Butternut Squash Soup – "Real, Easy, Healthy"
Ingredients:
–       Two packages of already chopped butternut squash.
–       Two sweet potatoes peeled and cubed.
–       One medium white onion.
–       3 to 4 cloves garlic, minced
–       Celery (4 stalks, cubed)
–       Bag of carrots
–       16 oz. chicken stock
–       Dash of salt, pepper, and sugar.
–       2 tablespoons olive oil or butter.
–       Teaspoon rosemary (optional)
–       Garnishes (Fresh parmesan or toasted pine nuts)
Directions:
In a deep pot, sauté onion and garlic in olive oil for a minute.  Add sweet potatoes, squash, celery, and carrots.  Stir all the ingredients and continue to sauté for a few minutes.  Add the chicken stock and bring the pot to a boil.  Once the pot has reached a boil, turn the temperature to a low or simmer.  Cook vegetables for 20 – 30 minutes or until tender.  After the vegetables are cooked, take an emersion blender or anything that will breakdown the vegetables to gain texture in the soup.  The soup will become creamy and delicious without any salt, pepper or sugar added.  I suggest that you add a dash of each just to give it a little seasoning, a little sugar works well to bring out the natural sugars in the squash and potatoes.  Serve with crusty bread for dipping.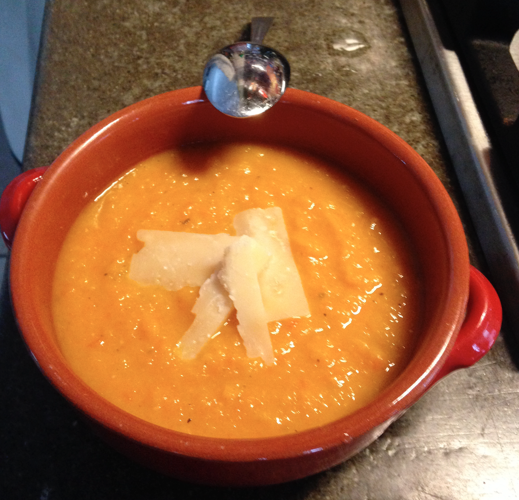 Enjoy !
Posted by David Kemsley