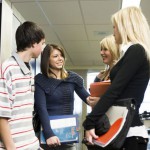 Our concluding post in the "Let's Talk Bullying" series peers into the overall strategy at an alternative high school. The approach in this setting includes consistent discussion, personal responsibility, and immediate action.
Alternative High School
MSW case manager, Gina Sineni, counsels teens at an alternative high school in suburban Chicago. What is unique and challenging about this environment is that anti-bullying behavior therapy is directly and indirectly infused in everyday class, and is even more imperative due to the background of her students.
The Daily Routine
As an alternative high school, our job is to break through the emotional barriers that students face so that they can deal with their stressors in a healthy manner. Our counseling approach addresses their current behavior (and precursors to it) so that they can experience more positive outcomes at school, in relationships, and at home. They are very much a part of this conversation. A lot of the children we see cannot cope with everyday life due to their past, but we don't accept this a predetermined condition for their present or future. We face the situation, as hard and unfair as that may be, and make action plans for what they need to do. They need to know that they have the resources and the power to create change. They also need to know that that change can and will only come from within them.
Specifically addressing bullying, we do activities on a consistent basis. Overall, students are receptive, but they need to think through the scenario and their actions more comprehensively and with higher frequency than their peers.
• Weekly Round Up Discussion – Each week we talk to our students in an open format about various topics that they want to cover. We go over specific behavioral issues, how they feel in certain scenarios, give proper anger management tips, etc. This is their chance to speak whatever is on their minds at the time. Outside of the benefit of giving positive instruction, these meetings also allow staff and students to deal with issues and not to have them build up.
• Anti-Bullying Discussion – During our weekly meetings, the specific topic of bullying is sometimes addressed. We discuss questions such as: why/how do people bully? What are the feelings inside? How does this makes people feel? How do you stop the phenomenon by taking away the power exerted by bullies (stop being vulnerable, taking away the control)? We want the students to think through the harm that these behaviors are presenting to others and themselves.
• Confronting on the Spot – Inappropriate behavior simply isn't tolerated. If we witness a student doing or saying something out of line, it is confronted on the spot. Oftentimes we'll say something like, "You are being mean and that talk/action will not be tolerated." We are trying to change their behavior, so passive approaches and insinuations are not effective.
• Speaking Up – Students who witness bullying are encouraged to tell an adult and speak up. They are also given the description of what a bully is so they can see if their own actions are similar. If they see similarities, we strategize a plan (based on their own opinions) for them to change.
• Secure Environments – Students need to know that they have a support system and that they can feel safe reaching out to adults. Our school provides an encouraging environment where there are outlets (i.e. teachers, social workers, counselors), both for the bully and the victim.
• Cyberbullying – This is a big problem for our students because phones and Facebook are the main ways that they communicate. Like other activities, we use the same discussion platform as other bullying topics and address cyberbullying, sexting, and "trolling" directly, with a no-tolerance stance. (For our students, "trolling" is when someone sets up a fake account and writes mean or derogatory messages on FB, blogs, etc.)
• No-tolerance School Policy – There is a school-wide no-tolerance bullying policy. If it's witnessed at all, students are written up and are given an in-school detention. The only way to end this is by the student directly addressing their behavior, why it was wrong, and how they will amend it.
Additional Resources
If you have any questions or comments regarding the types of activities that Gina's students engage in, please let us know.
This article concludes our "Let's Talk Bullying" series. We hope that these varying perspectives – an elementary school teacher, a parent, a special needs teacher, and a therapist – have provided you with additional support, direction, and/or assurance that, although bullying happens to our students and children, we do have resources at our side. We can do something about it.
Posted by Lindsey Elton, abcteach Team; and Gina Sineni, MSW