* This week's fun activity is great for Halloween parties, craft day or for a learning center.  
* Follow the easy instructions and create a Halloween or Autumn lantern.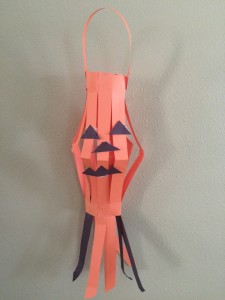 Step by Step Instructions: 
1.  Leaving a one-inch margin on all sides, cut straight lines from the fold to the opposite side.  The lines should be about a half-inch apart.
2. Open the paper. Make a tall cylinder out of the paper so that the cuts are vertical.
3.  Take a strip of orange or black construction paper. Attach both ends to the top to make a handle.  Add eyes, nose and mouth.
4.  Staple or glue the cylinder together. Make colorful construction paper strips to hang from the bottom of the lantern for additional  decoration.
Fun Ideas and Links:
– For more Halloween craft ideas from abcteach, click on these links:  Halloween Crafts.  Halloween.
– Halloween Ideas: Make a bat, witch, jack o' lantern, a ghost.
– Autumn Ideas:  Falling leaves, scarecrow, pumpkin with vines