The following post is from fellow educator, colleague, and Mommy Perks owner, Shara Lawrence-Weiss. She shares wonderful time management tips that parents, or anyone working with children, can use
this summer.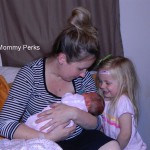 Time management is such a tough issue for most parents. Toss in summer break with the kiddos at home 24/7 and it's enough to send most of us into the bathroom for a good cry.
It's not easy when your children are too young to attend summer camps or sporting activities. At the moment I have a 5 year old, 3 year old, and newborn at home. While I nurse the baby the other two children are often arguing with one another. If not arguing, they are using their creative little minds to build a castle… around my antique sewing machine or on top of the dresser, etc, etc.
I had to sit myself down this week and have a little Come to Jesus meeting with my own mind. "Shara – you can do this. You were a nanny for 16+ years, you worked in Preschools and you have a background in early childhood. Don't give up or check yourself into the looney bin just yet! THINK!"
Here are a few ideas I've come up with or tested so far:
Co-op: Find another parent that you can trade with. They take your kids for one day and you take their kids for one day. Win-win. Do this weekly if you can.
Teenagers: Lots of teens are seeking work right now. Stores are not hiring as many teens due to economic slow-downs. Find a few safe and trustworthy teens to play with your kids so you can work or run errands or clean the house. Ask around for the going rate so you are paying fair wages. Sometimes I pay a teen to go grocery shopping with me just so she can push one cart while I push another. It's worth my sanity to pay a few bucks to have the extra set of hands.
Day camps: Are there any day camps or church camps running in your area? Look into those and sign your kids up ASAP. My kids attended one day camp this summer. The paperwork said that children 4+ could attend but we asked, "If our 3.5 year old is potty trained, can he come, also?" They said yes! This gave me about 2.5 hours (Monday-Friday) to get housework done, work a little bit, run errands, etc.
Quiet time: I've explained to my kids that mommy is much nicer when she gets a little break during the day. If they play or read quietly in their rooms for about an hour, I then allow them to choose a fun activity like play dough, painting, art time, etc.
The great outdoors: Make use of outdoor fun as much as possible. My kids love to run and play and swim and jump on the trampoline. If I tire them out, they go to bed earlier and sleep in longer. That gives me more time to catch up on work or chores. It also gives my husband and I more time to snuggle in the evening or watch some tellie together.
Eye contact: When I want my children to really listen to me, and to hear what I say, I tell them: "Please stop. Look at me. Look at my eyes. Now – I want you to show me that your listening ears are working. Let's test them out! I'm going to give you a direction and then we can be sure those ears are working properly, okay?" They think this is very funny. My three-year-old will feel his ears and reply, "Yep. Mommy – my ears are okay! Not broken!" I say, "Okay, whew! Now let's see if you can follow this direction." I then instruct them to pick up the room or sit down for lunch or play in their room while I get things done around the house. If I make a point of using eye contact and direct instruction, it works much better than trying to toss out random requests that get ignored.
Ask them to help! My kids like to help, especially when they know it's really making me happy. I might say, "I need you guys to help me pick up, please. It makes me very happy when you help out!" They like the verbal praise and they enjoy knowing that I'm pleased with them. I might also say, "I need a diaper for the baby. Can you please go to my room and bring me one diaper? It sure would help me out!" They like feeling as though they are needed and working as a team can help keep the house in order.
Activity time: I often visit abcteach for ideas to use with my kids. I love the selection of holiday and seasonal ideas. My kids always enjoy making a new craft, coloring something fun, or creating a project that we find on the site!
Some days run very smoothly around here while other days are madness. Such is the life of a parent, I know! We signed on for this and I wouldn't trade it for the single life. I do, however, keep chocolate stocked at all times.
Shara Lawrence-Weiss is the owner of Mommy Perks, Personal Child Stories, Kids Perks, Early Childhood News and Resources and Pine Media. She is the mother of four and the wife of one. Shara has a background in education, early childhood, freelance, marketing, special needs, nanny work, and business ownership. She's secretary of her town charity group and a Board member of her local library. Shara and her husband run children's events for their small-town fundraisers and in their spare time, mentor various teenagers in the community.