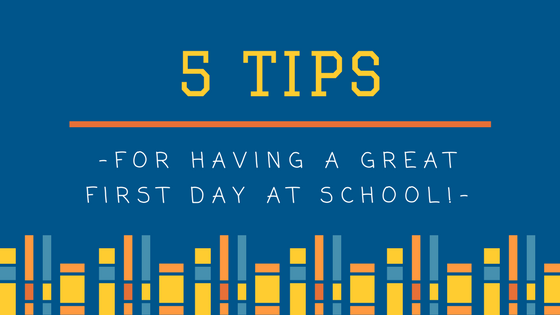 Some of you may have started school already, and others will start this week! Either way, the first day of school can be tough for everyone. Here are some great tips to help you get through the first day, first week, or entire year of school. Don't let it scare you, there are a lot of fun and exciting things about going back-to-school!
Tip #1
Go To Bed Early! Make sure to get plenty of beauty rest the night before the big day. That includes the parents too! Sometimes the first day can make going to sleep hard. You have all these thoughts running through your head about everything. What should I wear? Is my teacher nice? Will my friends be there? Where will I sit? All the questions can keep you wide awake…so go to bed early and make sure you are prepared the night before. Its always a good idea to eat a healthy breakfast before going to school. And parents should pack a lunch the night before just so you aren't in a rush and late for school on the first day!
Tip #2
Be A Cheerleader! You're kids are going to have a long school-year ahead. So give them an extra boost to keep their spirits strong. Write notes or funny jokes in their lunch to let them know you are thinking of them. Be involved with their homework, and encourage them to ask questions and try their BEST! Take them out for ice cream or their favorite place to eat when the first day of school is over to celebrate and hear about how it went! Share your own back-to-school experiences that will make them feel more comfortable. Make sure you stay calm and supportive throughout the day. They will appreciate your optimism.
Tip #3
Come Prepared! It's very important to be prepared for the long day ahead! Make sure you have everything ready the night before. Pick out a nice outfit, because when you look good, you feel good! Leave your backpack by the front door, so you won't forget it on the way to the bus! Usually, you have an 'open house' to come to the school before it starts. This is a great time to find your locker, meet the teacher, and see your classroom! It also helps you feel more prepared for when the first day starts. Don't worry, everyone is going through it together; you are not alone. Be confident, and take a deep breath!
Tip #4
Stay Organized! Try to keep your home organized and clean. Back to school can be chaotic at times. It is always nice to come home to a friendly, stress-free environment. Your kids need their own space, and having a daily routine helps! Keep a checklist of chores or a to-do list for before and after school hours. Here is a colorful, printable checklist that goes through a daily morning routine. Keep a calendar close by to remember important dates, work schedules, and after-school events. Have a list of rules for at home and at school.
Tip #5
Health & Safety! Make sure to drink your Orange Juice/Milk! Getting the appropriate daily vitamins, and staying healthy is important for going back to school. There are so many allergies and germs floating around at school, it's important to stay hydrated and healthy. You don't want to bring any food to school that other students might be allergic to, so stay informed about your classroom health regulations! Also, make sure your child arrives safely to school. Know what time the bus arrives, or carpool with a friend! Have emergency lunch money, in case your child forgets to pack one. Make sure your child knows your contact information in case they need to get a hold of you at school. Leaving your cell or work number in their locker is always a good idea…just in case! Everyone needs to be healthy in order to have an active mind and strong bones. Take care of yourself!
We hope these five tips have helped prepare you for back-to-school. Everyone will be nervous, but try to have a good day, and remember to SMILE and DO YOUR BEST!!
Written by, Laura Kemsley
-abcteach team