Discover FREE Autumn-Themed Activities: Engaging Worksheets for All Ages!
As the leaves change colors and the air turns crisp, we're thrilled to bring you a cornucopia of fall-themed activities that will ignite your students' curiosity and make learning a festive adventure this season!
Nature Walk and Science Exploration Take advantage of the breathtaking fall foliage by organizing a nature walk. Encourage your students to observe and collect leaves, acorns, and other natural treasures. Then, transform your findings into hands-on science experiments exploring photosynthesis, leaf structure, or seasonal changes.
Pumpkin Math Pumpkins aren't just for carving! Engage young learners with math activities like estimating the weight of pumpkins, measuring their circumference, or counting the seeds inside. It's a fun and interactive way to reinforce essential math skills.
Apple-tizing Experiments Explore the world of apples through exciting experiments. Discover the buoyancy of apples by conducting a sink-or-float experiment. Dive into chemistry with apple oxidation demonstrations, showcasing the browning process. And of course, indulge in some delicious homemade apple treats!
Fall Reading Challenge Create a fall-themed reading challenge for your students or children at home. Encourage them to explore books about autumn, cozy mysteries, or spooky tales. Host reading parties or discussions to share their newfound knowledge and foster a love for reading.
Autumn Harvest Bundle:
This 52-page Harvest-Themed NO-PREP Bundle is designed to engage and inspire learners of all levels. Inside, you'll find a variety of educational gems, including captivating "solve and color" puzzles, stimulating math challenges, intriguing science activities, fun-filled games, imaginative "roll a story" prompts, and a medley of activities perfectly suited for the fall harvest season.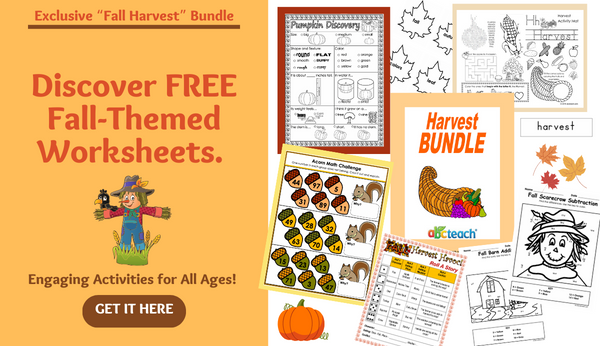 Cultural Celebrations Dive into diverse cultural celebrations, like Diwali, Halloween, or Thanksgiving. Learn about their origins, customs, and significance. It's a fantastic opportunity for cross-cultural understanding and appreciation.
Interactive Homeschooling Tips Homeschooling parents, we've got you covered! Discover practical tips and resources for effective homeschooling this fall, including time management strategies and online learning tools.
Teachers, Parents, and Homeschoolers Unite! Let's make this autumn a season of inspiration, growth, and joy. Together, we can create memorable learning experiences for our students and children.
Stay tuned for more fall-inspired ideas, resources, and support throughout the season. Wishing you a harvest of knowledge and a season filled with warmth and learning!
With gratitude and excitement,
The abcteach Family
P.S. Don't forget to follow us on social media for daily fall-themed tips and inspiration!